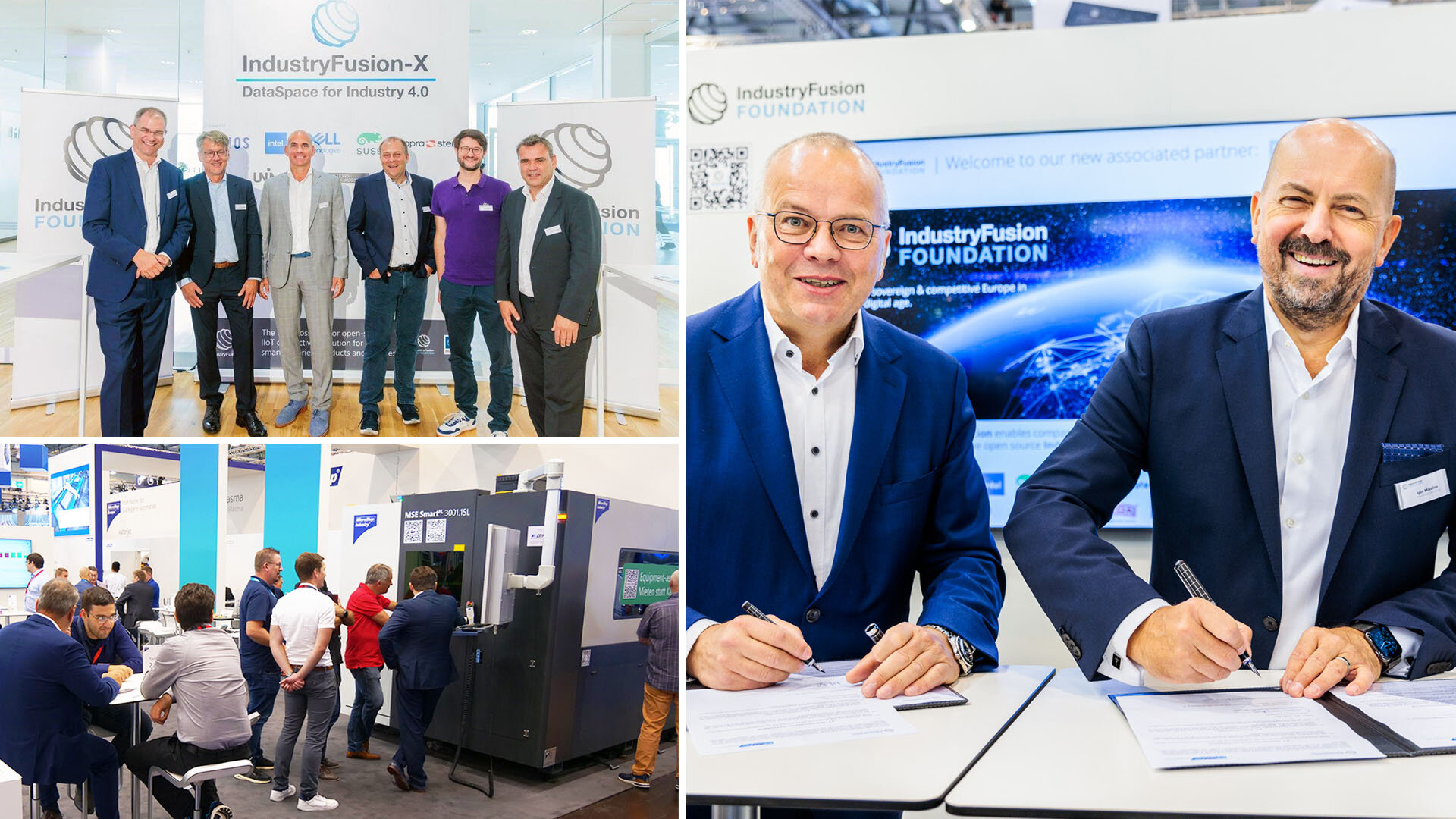 15
SEP
Digitalization at the center of Schweissen und Schneiden 2023
As a cooperation partner of Messe Essen, the IndustryFusion Foundation presented itself with its strong partners at this year's Schweissen und Schneiden. At the trade fair stand, the cross-manufacturer open source networking solution IndustryFusion-X met with great enthusiasm among factory operators, machine manufacturers and providers of smart services. The DVS (Deutscher Verband für Schweißen und verwandte Verfahren e. V. - German Welding and Allied Processes Association) also trusts in the ideas and strong network of the IndustryFusion Foundation and sealed the cooperation with the signing of a cooperation agreement to drive digital developments in the industry.

For the IndustryFusion Foundation as a cooperation partner of Messe Essen, this year's Schweissen und Schneiden was a complete success. With its slogan "Get connected - get digital", the world's leading trade fair put the focus on the topic of digitalization from September 11 to 15. Smart digitization solutions were also presented by the IndustryFusion Foundation at its booth, which attracted great interest during the five days of the trade show. On display was a smart laser cutting system that is already equipped for the networked manufacturing of the future. In addition, numerous use cases showed how companies of all sizes are enabled to intelligently digitize their manufacturing and products with the cross-manufacturer open-source networking solution IndustryFusion-X. This enables factory operators to network their manufacturing, machine and plant manufacturers to digitize their products, and providers of digital services to offer their services via a standardized platform. The trade audience was also able to get to know the smart, innovative solutions of the IndustryFusion Foundation in a digitization rally. This resulted from a cooperation between the IFF, Messe Essen and DVS - Deutscher Verband für Schweißen und verwandte Verfahren e. V. (German Welding and Allied Processes Association) and made digitization tangible for everyone.

New partner: Cooperation agreement signed with DVS

In order to push the cooperation between the IndustryFusion Foundation and DVS even further in the future, the two organizations signed a cooperation agreement at Schweissen und Schneiden. The common goal: to secure and further expand the digital sovereignty and competitiveness of their members and the industry in the digital age. The two signatories of the agreement Dr.-Ing. Roland Boecking (Chief Executive Officer of DVS) as well as Igor Mikulina (President of the Foundation Board of IFF) are looking forward to the cooperation. "With this, we seal the merger of two strong institutions and the connection of numerous, powerful and innovative companies. Together, this partnership will enable us to push developments in the field of digital networking solutions and modern hardware and software even further," said Igor Mikulina. Read more here: https://industry-fusion.org/en/news/Cooperation-agreement-signed

Strong network of members and partners

In addition to DVS, the IndustryFusion Foundation is backed by a powerful network, from machine and plant manufacturers to component manufacturers from the metalworking industry, as well as numerous partners from science and research. Strong partners from the IT and finance sectors play a central role in the implementation of the IndustryFusion-X software solution. "With companies such as Intel, SUSE, IONOS, Dell and Sopra Steria, we have true global champions at our side when it comes to technological implementation as well as financing solutions," emphasized Prof. Dr.-Ing. Johannes Schilp, who attended the press conference on the start of the Schweissen und Schneiden trade show as a member of the IFF Foundation Board. During the subsequent round of interviews with selected exhibitors, the companies substantiated their intentions to actively participate in the further development of IndustryFusion-X.

An excerpt of the statements of individual company representatives:

Christian Donitzky; Director Center of Excellence Manufacturing EMEA; Intel Corporation.
"We are very much active in Europe. Industry 4.0 comes from Germany and from Europe. This is where the innovations take place, this is where the market players are from manufacturers to users to system integrators. As a global technology company, we see ourselves as an enabler. Intel is a very strong software manufacturer, and we bring that to the table. We want technology to help the industry and also us in our daily lives. Based on open source, we want to enable the industry to be competitive in the global market."
Holger Pfister; Country Manager Germany, SUSE
"SUSE has been a Linux pioneer for 30 years, which means we believe in open source. Whether data is processed in the hyperscaler cloud, on the local machine or on another device, we can deliver the software to do it - reliably, securely and managed. We want to make sure that we have an open source platform that makes it easy to share data, which also drives the industry forward. The main idea for us has always been open source, because we don't believe in driving innovation by keeping your knowledge to yourself."
Rainer Sträter; Senior Vice President Cloud Services and Digital Ecosystems, IONOS
"Digitalization needs cloud infrastructure and IONOS as a German cloud provider, as Europe's largest cloud player in the market delivers this infrastructure. And it's securely DSGVO-compliant, so we have a trusted platform for our partners in the SME sector. It's incredibly fun to be the center of gravity for digitization of this Industry 4.0 in this world-class consortium, bringing this technology to market and enabling these business cases that we all dream of."
Thomas Saalmüller; Partner Banking, Sopra Steria
"Huge investments are needed in the coming years to modernize and digitize machinery. This requires new, more flexible financing models, the keyword here being 'equipment-as-a-service'. This means that the user and the use of the machine will become much more of a focus of financing. However, this has not been possible until now due to a lack of data. With the IndustryFusion Foundation solution, this becomes possible, even in real time. With our financial services expertise, we at Sopra Steria are building the platform that uses this data to then map and also process these financing products. We are thus building the bridge between the industry and the financial services sector. It's an exciting journey and we're happy to be there and be part of that ecosystem."
Dr. Stefan Muthmann; Manufacturing Field Sales Director, Dell Technologies
"Digitization is becoming more and more integrated into manufacturing processes. Certain things happen centrally in the cloud, certain things have to happen locally directly in manufacturing. That's where we as Dell support with our platform. You need computing power directly where the data is generated and can also be processed, in a short time and also with certain security requirements. Artificial intelligence that influences the manufacturing process continuously controls it, and that also has an influence on the people in production. Here you don't want to depend on a connection to a central cloud, but do it locally."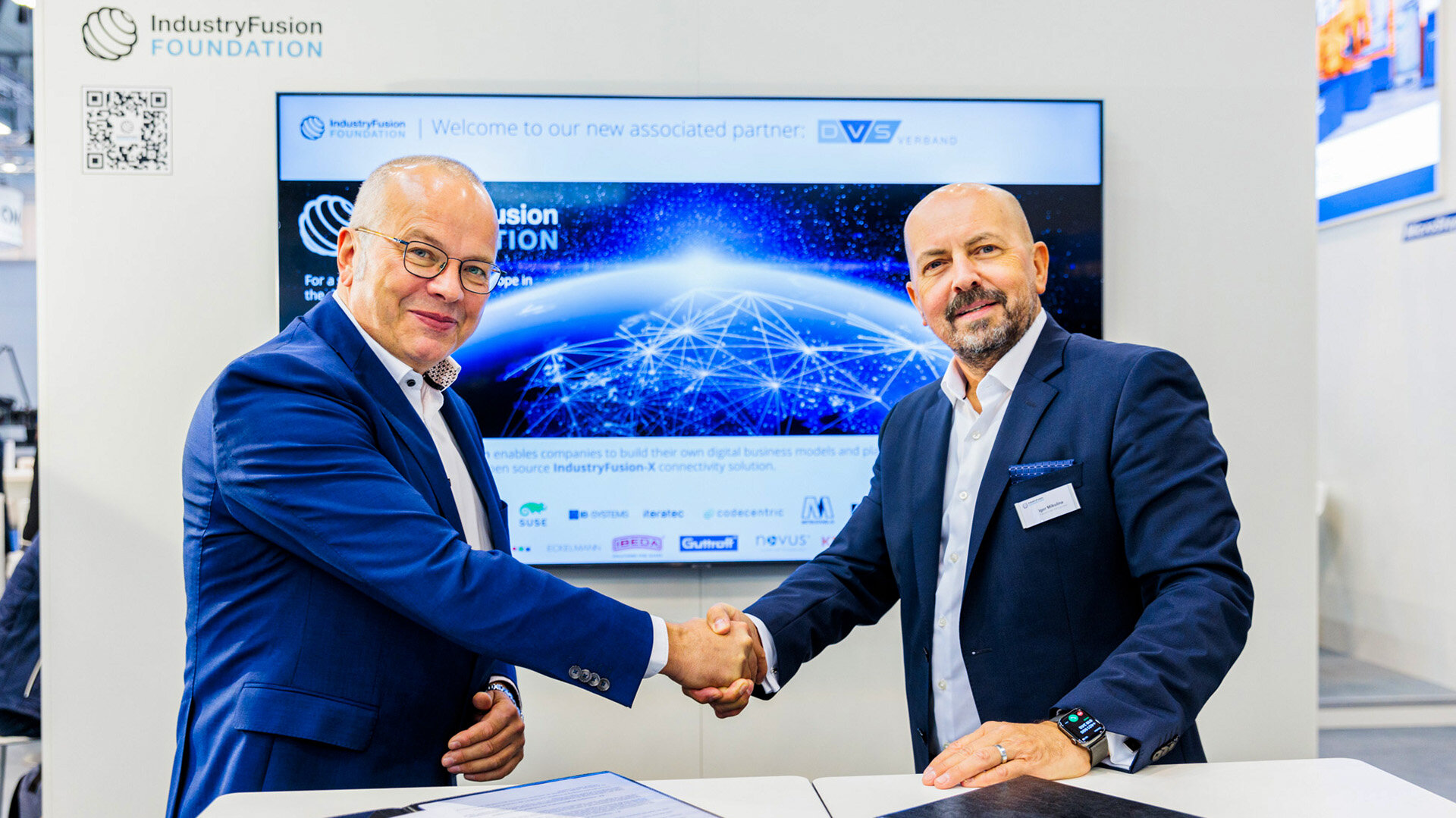 Dr.-Ing. Roland Boecking (Managing Director of DVS) and Igor Mikulina (President of the IFF Foundation Board) at the signing of the cooperation agreement.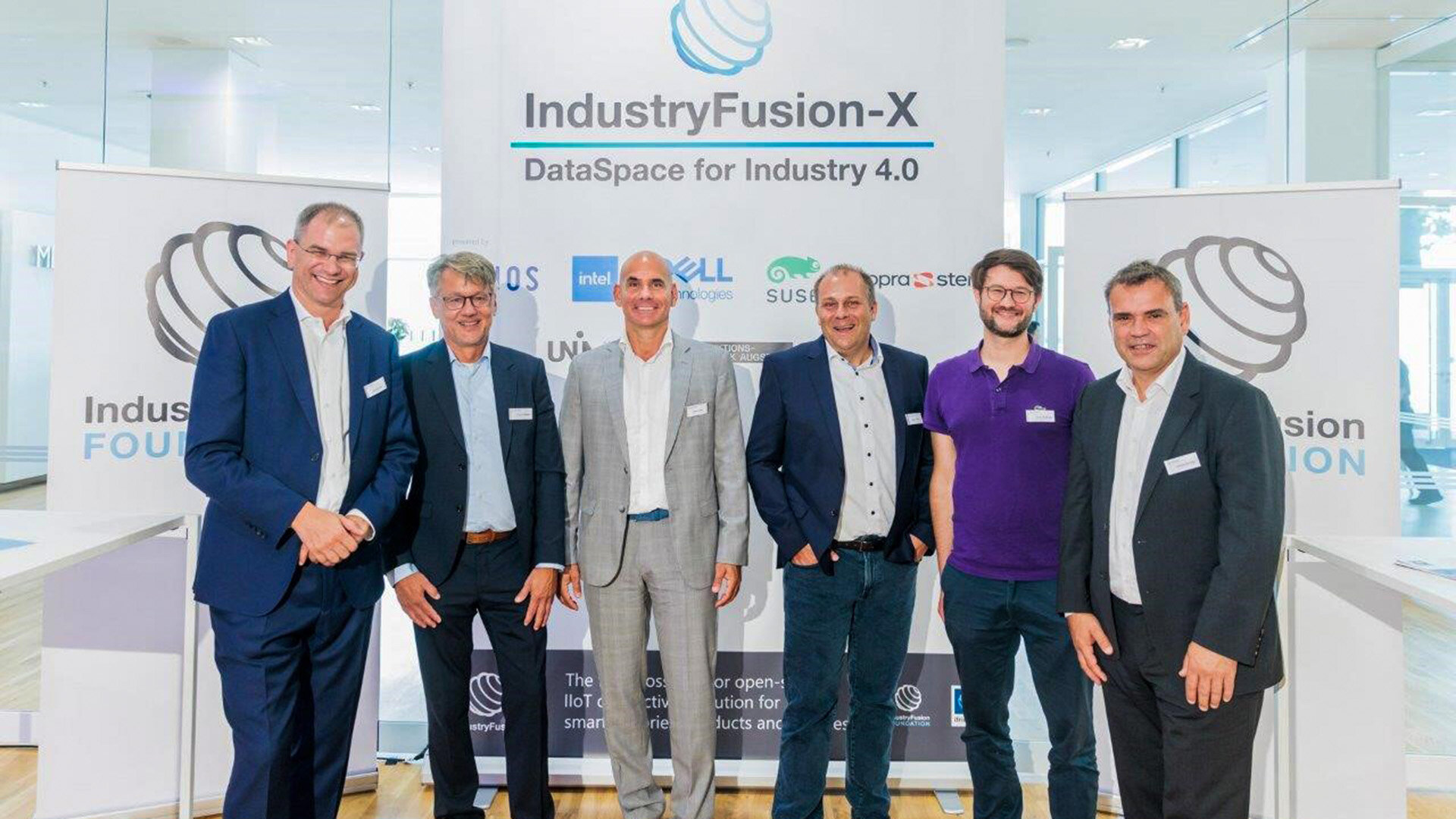 Representatives of the IndustryFusion Foundation at the Schweissen und Schneiden press conference: Prof. Dr.-Ing. Johannes Schilp, Thomas Saalmüller, Holger Pfister, Rainer Sträter, Dr. Stefan Muthmann, Christian Donitzky.
Members and partners of the IndustryFusion Foundation at the world's leading trade show for joining, cutting and coating.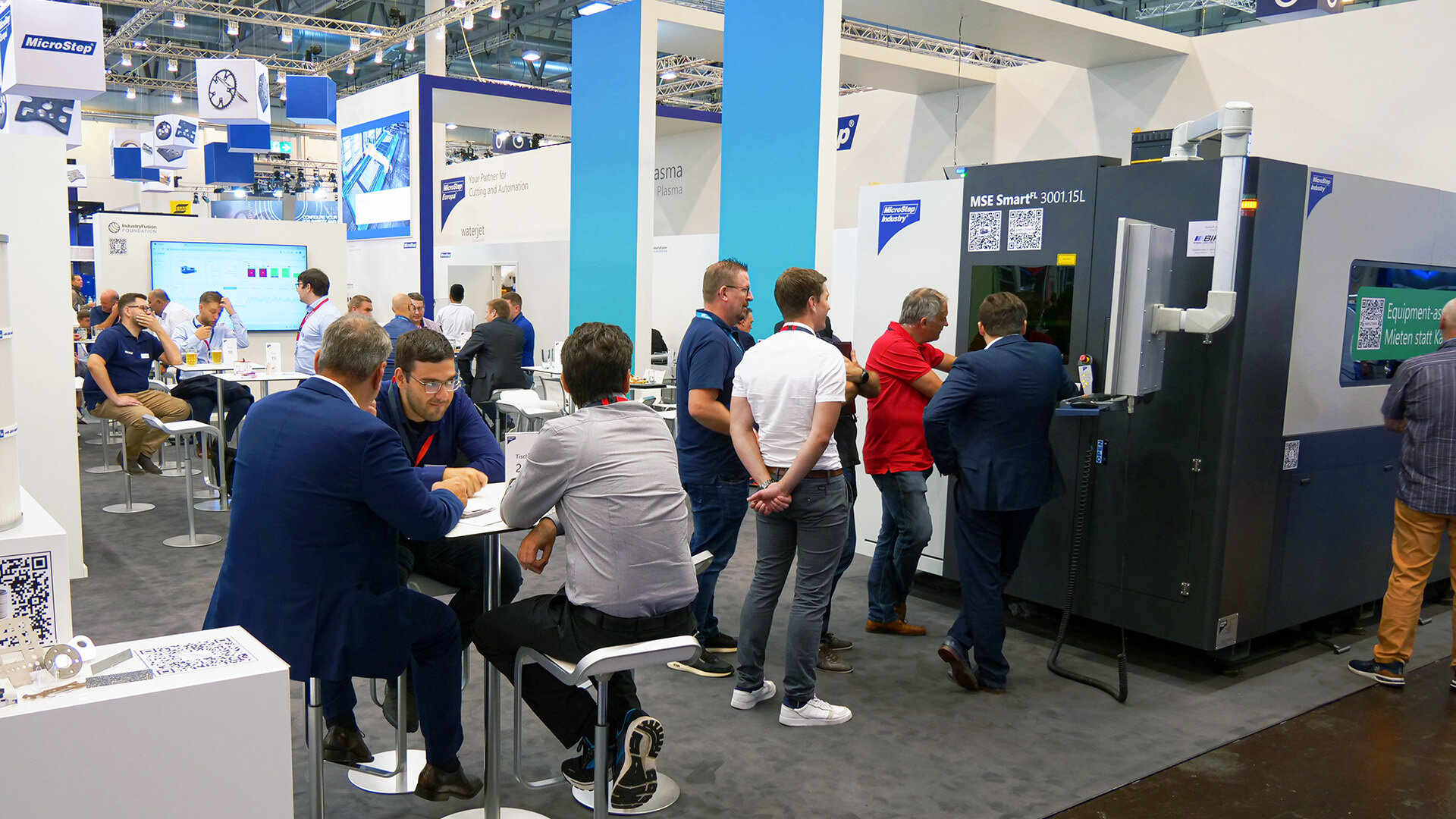 Great interest at the IndustryFusion Foundation booth at Schweissen und Schneiden 2023.