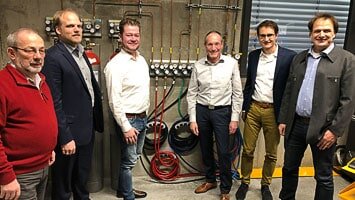 8
FEB
Meeting of the
Association members IBEDA Sicherheitsgeräte und Gasetechnik GmbH und Co. KG, MicroStep Europa GmbH and Sauerstoffwerk Friedrich Guttroff GmbH met on February 7 as part of the "Gas and Media Supply" working group at the new Guttroff Technology Center in Würzburg.
The participants examined all relevant aspects of tailor-made supply concepts and worked out use cases of how added value can be created for the operator of a smart factory in the future, e.g. through digital tapping points. The meeting at the Guttroff Technology Center gave the participants the opportunity not only to reflect on their ideas theoretically, but also to play out possible use cases directly on the machines and gas supply components available on site.
The working group intends to present the initial results of its collaboration at the working group meeting on March 8 at the association's headquarters in Bad Wörishofen.