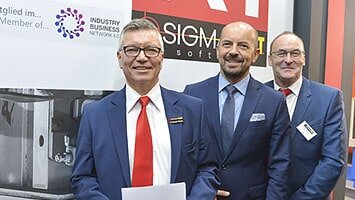 29
OCT
Manufacturer initiative presents itself at EuroBLECH 2016
Industry Business Network 4.0 e.V. presents itself at the major trade fair and generates further strong partners
The interest is enormous: After the "Manufacturing 4.0" trade congress at the end of September in Bad Wörishofen, Bavaria, the new Industry Business Network association presented itself for the first time at EuroBLECH 2016 in Hanover. The response to the manufacturers' initiative was extremely positive. Numerous companies obtained information about the association from existing members. Further innovative companies joined the Industry Business Network 4.0 at the 24th International Technology Exhibition.
More than 1,500 exhibitors from 41 countries showcased their innovations along the entire technology chain of sheet metal working at EuroBLECH 2016 in Hannover at the end of October. More than 60,000 visitors took the opportunity to inform themselves at the world's leading trade fair. The dominant topics in the industry were networked manufacturing, digital production and the concept of a smart factory.
Accordingly, there was a great deal of interest in the Industry Business Network 4.0 e.V. For the first time, the association presented itself to an international trade audience after the successful start at the trade congress "Fertigung 4.0 - Industrie 4.0 in der Blechbearbeitung" four weeks earlier. Visitors took the opportunity to find out from the existing members of the SME initiative about the cross-manufacturer cooperation of innovative companies that is currently being established with strong partners such as TÜV Süd and Fraunhofer IGCV. Many interested visitors came to the booths of MicroStep, Kjellberg Finsterwalde, Kemppi or Kemper. The media also picked up on the topic many times. "We are in good talks with numerous other creative companies in the industry. The great interest shows us that an association of medium-sized companies is necessary to leverage the potential of Industry 4.0," said Igor Mikulina, association chairman of the Industry Business Network 4.0.
Thus, even during the five days of the trade show, the existing members were pleased about companies joining the initiative. With SigmaNEST, a specialist in the field of nesting software is now involved in the association. In addition, TEKA Absaug- und Entsorgungstechnologie GmbH was welcomed. As an absolute expert in flexible storage and logistics systems, Böckelt Tower, an innovative family-owned company, has joined. "We are happy about more strong partners and we are sure that our association will grow further in a short time", said Igor Mikulina.