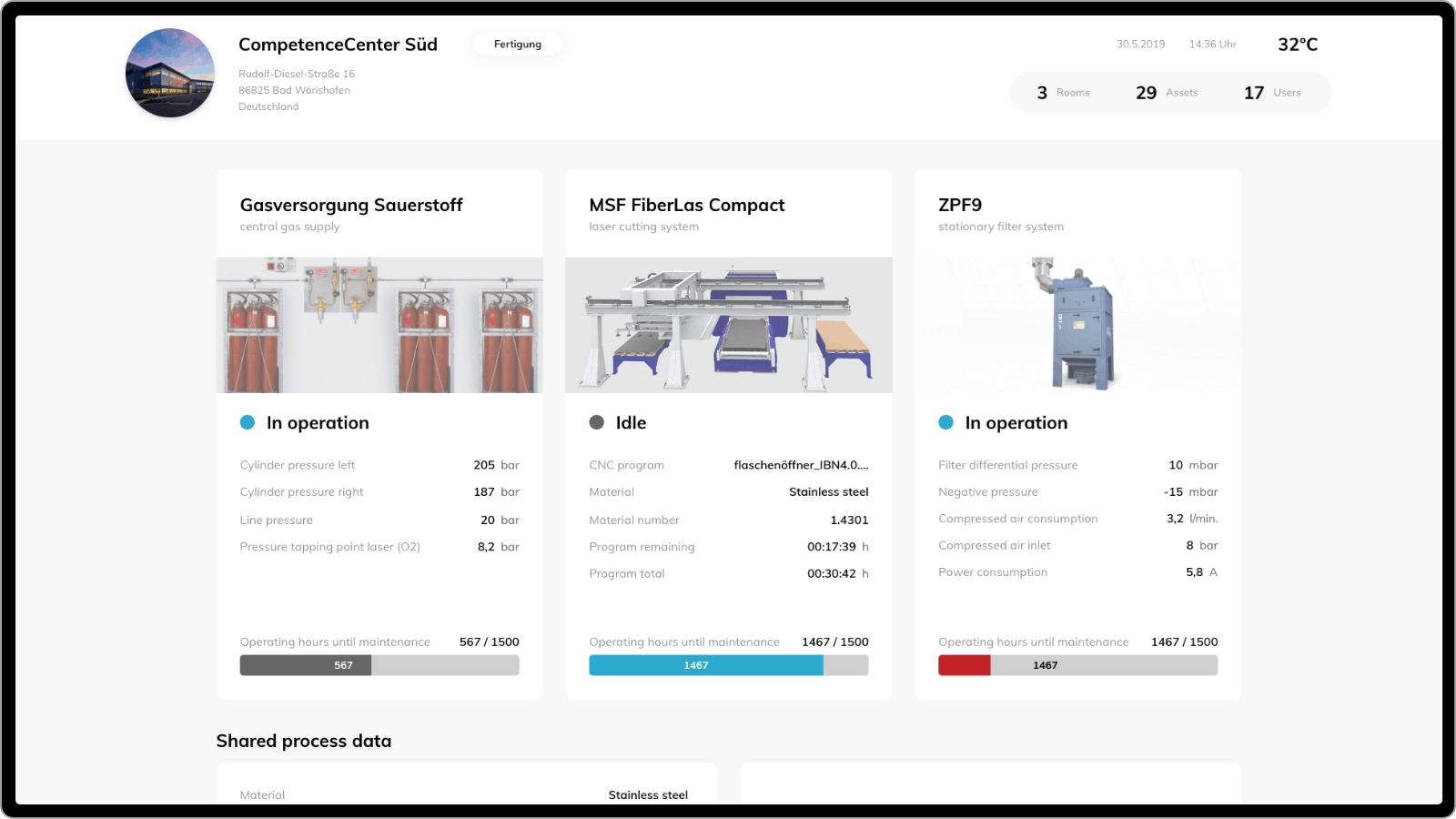 5
MAR
IndustryFusion Release 0.1
The time has come - the first release of IndustryFusion has been rolled out in the IBN 4.0 Smart Factory at the association's headquarters in Bad Wörishofen!

Since the official launch of the open source project at the end of October 2019, development has been at full speed. At the annual community event in November 2019, there was already the first sneak preview. Now the current development status can be tested live in the 0.1 release and used (prototypically) for the digital transformation of your own smart products.

Features of IndustryFusion Release 0.1
Standardized communication between assets from different manufacturers
Overview and management of assets in the Smart Factory
Representation of the Smart Factory with several locations, halls, rooms
Display of real-time asset data in standardized form
Display of operating hours for maintenance purposes
"Even though this is currently still a very early version of the networking solution, we are already showing the first core features that set IndustryFusion apart from other Industry 4.0 solutions. The plants come from different manufacturers and already send their data to the smart factory in a standardized way - and it's all open source."

Igor Mikulina
Chairman of the Board
Industry Business Network 4.0 e.V.
Use IndustryFusion for your own Smart Products
The current status of the Industrie 4.0 operating system is available to the members of the IBN 4.0 with the aim of
Make your own plants "Industry 4.0 ready
Connect and present own plants & showrooms to the IBN 4.0 Smart Factory
Design and develop new digital customer solutions based on IndustryFusion.
To inspire the commitment of more supporters to join the open cross-manufacturer network

The new release can initially be experienced live at the IBN 4.0 Smart Factory at the association's headquarters in Bad Wörishofen - other locations at member companies of the IBN 4.0 will follow shortly. In general, the IBN 4.0 Smart Factory is available to all association members as a cross-site live demonstrator!

For the integration of new plants into IndustryFusion, a standardized flow chart is currently being created. This will describe step by step how to integrate any plant into the ecosystem. Already at this stage, a large number of plants with different input protocols can be connected.

Become a member of the IBN 4.0 and join in!
IndustryFusion - the open cross-vendor networking solution for Smart Products & Smart Factories


IndustryFusion is an open-source project and an initiative of IBN 4.0. It is intended to be freely available to all manufacturing companies and machine manufacturers for the networking of plants and production facilities and thus significantly advance comprehensive networking - especially of medium-sized companies.

Learn more about IndustryFusion and how you can join too:
I would like to learn more about IndustryFusion!