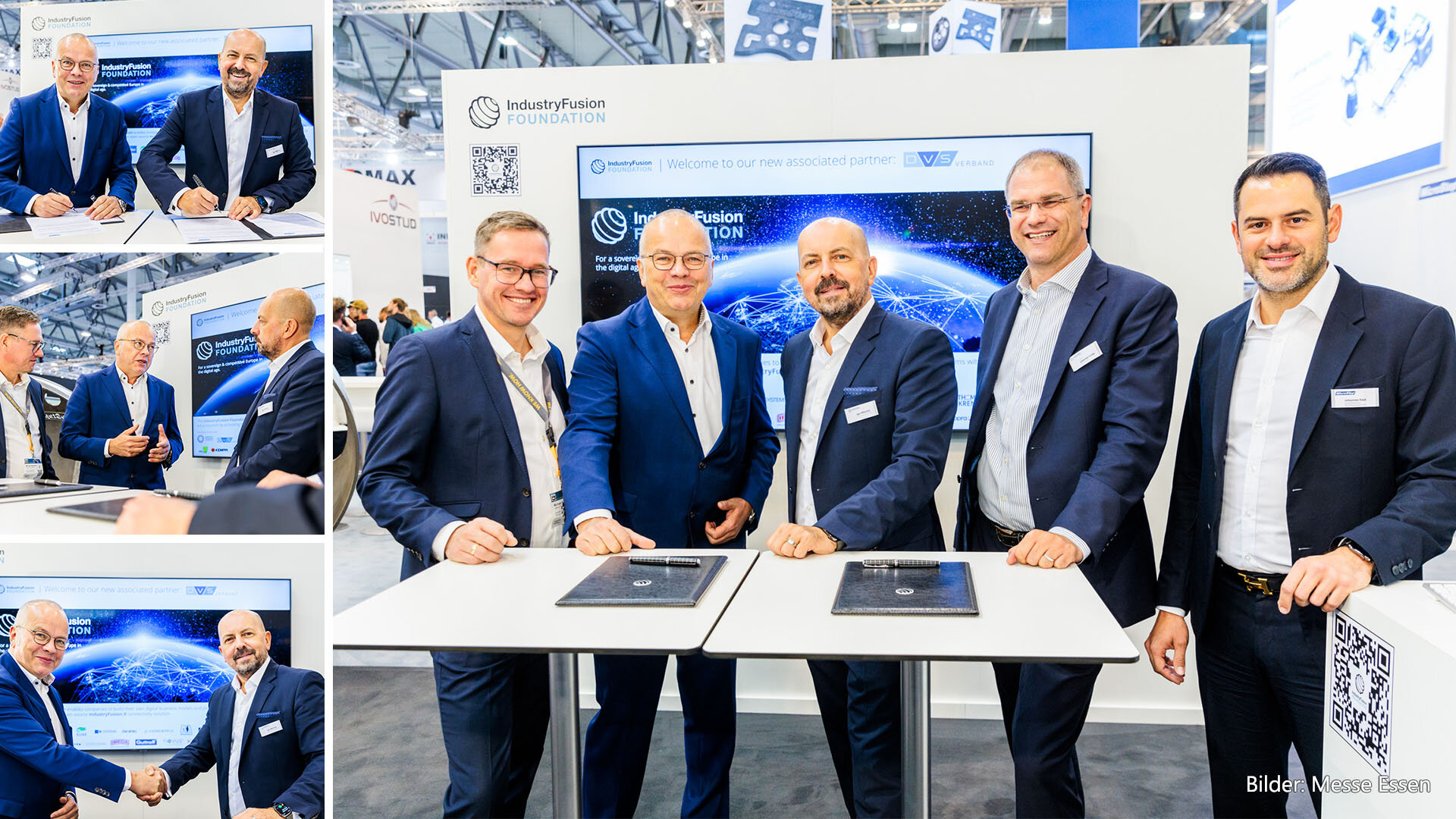 14
SEP
Cooperation agreement signed
Starting signal for a strong connection: At this year's Schweissen und Schneiden in Essen, Germany, the IndustryFusion Foundation and DVS (Deutscher Verband für Schweißen und verwandte Verfahren e. V.) signed a cooperation agreement. Science, research and education in the field of Industrie 4.0 are to be jointly promoted in the future. The two signatories of the agreement Dr.-Ing. Roland Boecking (Managing Director of DVS) as well as Igor Mikulina (President of the IFF Foundation Board) are looking forward to the cooperation. "With this, we seal the merger of two strong institutions and the connection of numerous, powerful and innovative companies. Together, this partnership will enable us to push developments in the field of digital networking solutions and modern hardware and software even further," emphasizes Igor Mikulina.
The future cooperation strengthens both organizations in their goal to secure and further expand the digital sovereignty and competitiveness of their members and the industry in the digital age. Both cooperation partners will benefit equally through an overarching transfer of knowledge. Members of DVS can participate in the diverse projects and initiatives of the IndustryFusion Foundation in an associate membership. In addition, free virtual participation in exclusive events of the foundation is also part of the cooperation. In the joint network with corporate members of DVS as well as with IT giants such as Intel, SUSE, IONOS and Dell, the cross-vendor open source networking solution IndustryFusion-X is being intensively developed towards a digital transformation of the economy.
About DVS
DVS - Deutscher Verband für Schweißen und verwandte Verfahren e. V. (German Welding and Allied Processes Association) is a technical-scientific association with more than 120 years of experience that is comprehensively committed to the approximately 250 different processes of joining, cutting and coating. The heart of all DVS activities is the technical-scientific joint work. It stands for the continuing close linking of content and results from the fields of research, technology and education. The associated companies of DVS process the results from the association and present them to the outside world with their own focal points. The head office of the association, which is recognized as a non-profit organization, is in Düsseldorf. The approximately 18,000 members are looked after directly on site by the DVS regional associations and DVS district associations. Together, all members of the association are committed to joining technology that is sustainable in every respect.