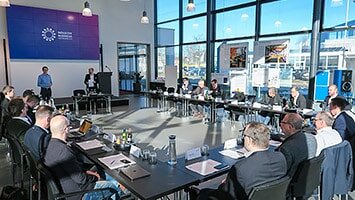 14
MAR
"It's all about business"
More than 20 members of the association met at the beginning of March at the association headquarters of Industry Business Network 4.0 e.V. for the quarterly working group meeting. The goals for the current association year were jointly defined. The focus was on the establishment of reference systems, in which the association will demonstrate the added value that cross-manufacturer networking enables.
Prof. Dr. Heiner Lasi, head of the Ferdinand Steinbeis Institute and holder of the professorship for Industrial Intelligence at Steinbeis University Berlin, was the guest speaker at the event, primarily as a representative of the German country team of the Industrial Internet Consortium (IIC). He highlighted the IIC's experience in setting up reference facilities - also known as testbeds. "It is of central importance that all those involved in such an implementation understand that it must be less about technological possibilities and more about business," Lasi said. In the end, it is the benefits for the user that determine whether a new digital solution is successful on the market.
Next meeting in June: first use cases will be presented
The next working group meeting is scheduled for June - when the working groups plan to present initial use cases on the topics of gas supply, sheet metal working, welding and retrofitting, which are to be demonstrated in the context of the planned reference plants.